Expect the unexpected in this delightful mountain getaway nestled in the lush Qadisha Valley. Villa Chamoun evokes Lebanon's glamorous 1960s charm in an upbeat contemporary setting impeccably designed and tailored for your comfort and relaxation.
Villa Chamoun · The place
A former family home built in 1965 by the Lebanese visionary and industrialist Toufic Chamoun, Villa Chamoun is brought back to life thanks to the owner's grandson. With his discerning taste and astute eye for detail, Rony made sure the legacy and splendour of the place were honoured with a refreshing creative twist. Lebanese and international design icons, Nada Debs, Rana Salam, Fares Dagher and others, were commissioned to bring their signature contributions to the storied guesthouse injecting plenty of flair and playfulness.
Villa Chamoun · Things to do
You can easily not step out of Villa Chamoun with activities and treatments to keep you occupied and rejuvenated, such as yoga, personal training workouts and therapeutic massages held on the splendid panoramic rooftop terrace. Otherwise, bask under the sun while enjoying their enticing pool and its spacious deck with lovely retro accents. The guesthouse is conveniently located in Hasroun, an authentic traditional village that is arguably the most beautiful in the Becharre District. Activities include hiking in the sacred Qadisha Valley and the Cedars of God forest or a visit to the Gibran Khalil museum near the town centre. Culinary activities, like how to make local Mouneh or the regional varieties of Kibbeh can also be arranged for you.
Question? Ask away
Whether you need more information on Villa Chamoun, or you're experiencing difficulties with your reservation… our frequently asked questions section might help. Otherwise, don't be shy — contact us! We will be delighted to answer your questions, seven days a week.
Credits — Words: Alia Fawaz.
Lodging policies — Check-in time is 14:00. Check-out time is 12:00 noon. Villa Chamoun operates all year round.
Room types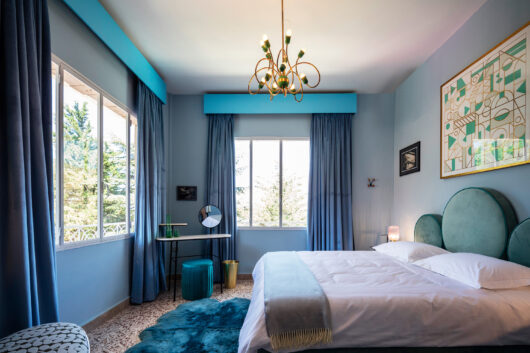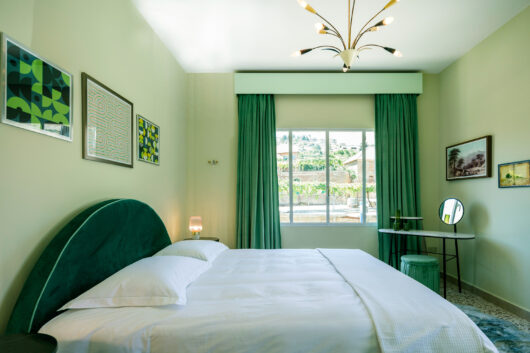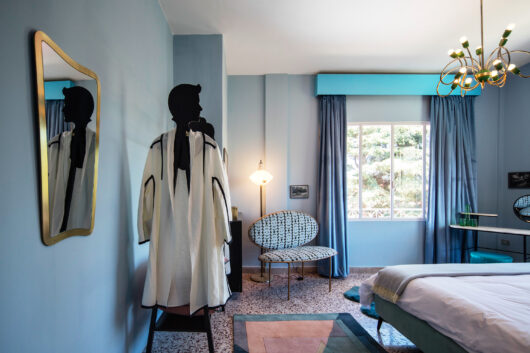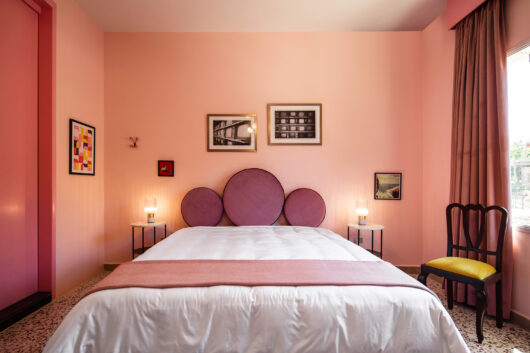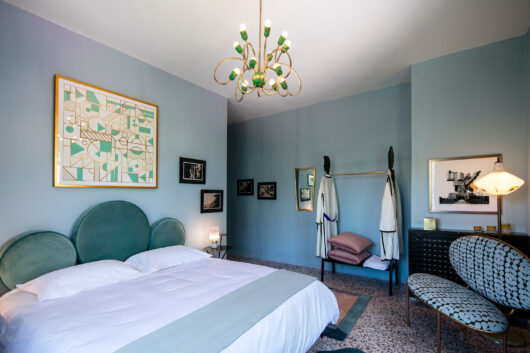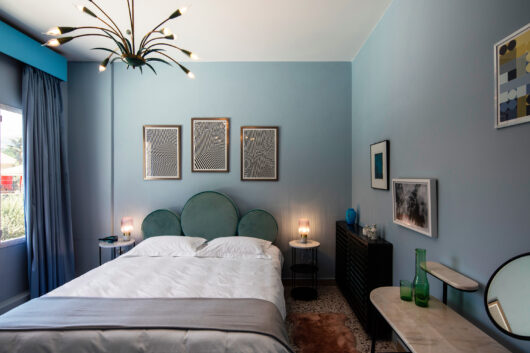 The Bedooms
Six individually decorated gorgeous bedrooms with vibrant colour palettes await you. The rooms take pampering to the next level with custom made Kimabaya robes by Milia Maroun and jasmine infused natural soaps and lotions. All rooms share a cozy pink lounge with two terraces offering sweeping mountain views.
Free wifi
Private bathroom
Mountain view
Air conditioning, heating
Double bed or twin beds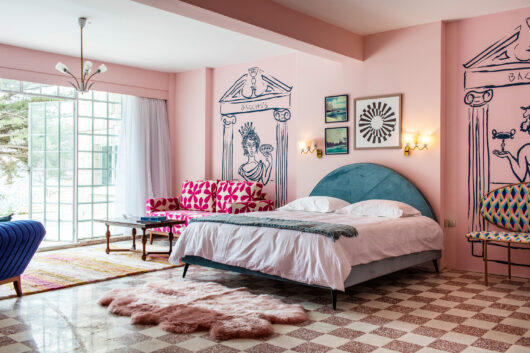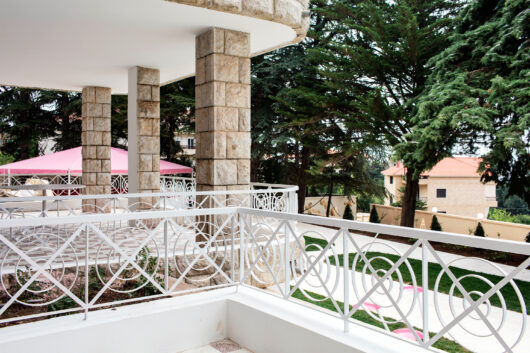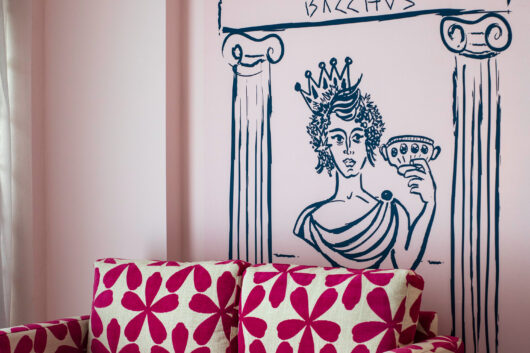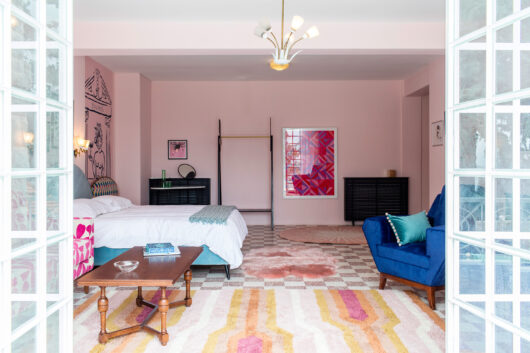 The Pink Suite
This enchanting suite, a tribute to Bacchus, the Roman god of agriculture, wine and fertility, comes with a relaxing living room area and its own private terrace overlooking the pool. Located on the lower garden level with a separate entrance, it offers added privacy and easy access to all areas of the guesthouse.
Free wifi
Private terrace
Private bathroom
Mountain view
Air conditioning, heating
Double bed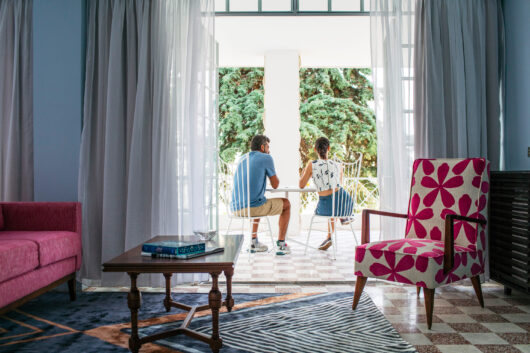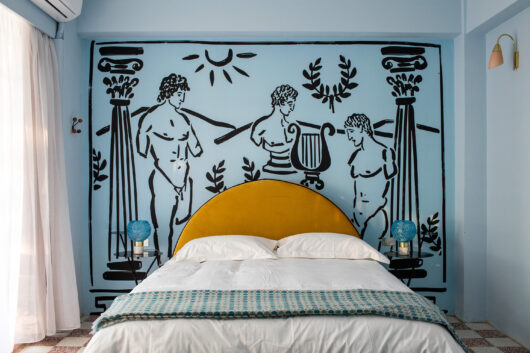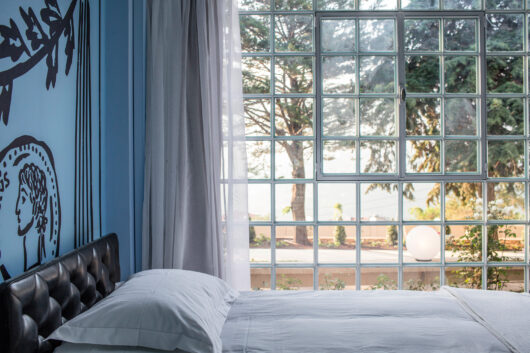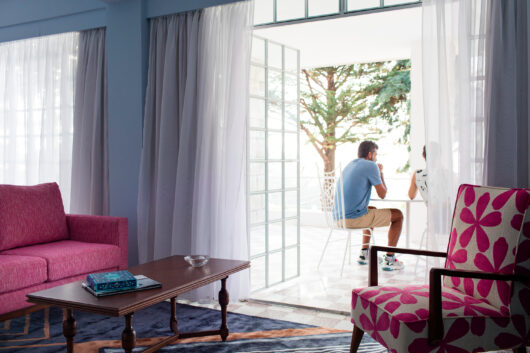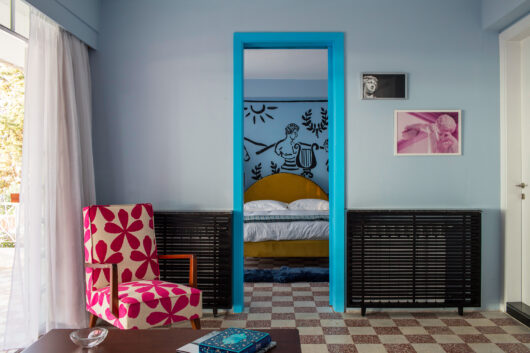 The Blue Apartment
Designed as a family space, the largest accommodation in Villa Chamoun has a generous living area along with a large private terrace overlooking the pool and garden. Like the Pink Suite, the Blue Apartment is also adorned with the captivating wall murals of London based visual artist Owen Grant Innes reminding guests of Lebanon's Roman past.
Free wifi
Private terrace
Private bathroom
Mountain view
Air conditioning, heating
Double bed
What's most striking about Villa Chamoun is how it threads together the belle époque of the '60s with the impeccable standards of a modern guesthouse.
Guesthouse location
Transportation
Our airport transit service from Rafic Hariri International Airport is available day and night. Upon landing and once you've picked up your luggage, your taxi driver will be waiting to greet you and drive you to Villa Chamoun.
From and to Beirut Airport
Airport pick-up 

$80

Airport drop-off

$80
The freedom to follow where your heart leads you! Your taxi driver is at your disposal for full-day bookings, allowing you the flexibility to create your custom itinerary… all you have to do is let the pleasure of discovery take over.