In the quaint mountain village of Saqi Rechmaiya, a 20-minute drive from Byblos, lies a 200-year-old former monastery that's been lovingly renovated to welcome guests from near and far.
SaQi Guesthouse ·
A mountain oasis
Offering a get-away-from-it-all experience, SaQi Guesthouse is a nature lover's dream come true. The three-bedroom property is owned by Gisèle, who inherited the unusual building from her father and decided to restore it with the support of her family. Known locally as 'the school' — it was a monastery and then a seminary — SaQi Guesthouse enjoys a peaceful mountain setting. Natural light floods the interior, which is a design triumph — colourful plants and flowers, dark wood tones and patterned fabrics adorning every room. Indeed, the guesthouse's indoor space flows in such harmony with the outdoors that you'll feel at one with Mother Earth wherever you choose to sit.
SaQi Guesthouse · Respect for the environment
Named after the village of Saqi Rechmaya, which translates into 'irrigation' and 'source of water', SaQi Guesthouse is located in the heart of serene pine forests and beautiful hiking trails. Not only does the property respect its historical heritage; it is also deeply connected to the fragile environment that surrounds it. Gisèle is a gardening enthusiast and an environmentalist who is passionate about recycling and eco-friendly practices.
Gisèle's warm spirit
It is undoubtedly because of Gisèle's genuine love towards the guesthouse that it radiates such a beautiful energy. She and her family have put great thought and care into making SaQi what it is today, evidenced by the elegant way it has been furnished with repurposed items, antique pieces and modern touches.
Question? Ask away
Whether you need more information on SaQi Guesthouse, or you're experiencing difficulties with your reservation… our frequently asked questions section might help. Otherwise, don't be shy — contact us! We will be delighted to answer your questions, seven days a week.
Credits — Words: LJ. Photographs: Paul Gorra.
Lodging policies — Check-in time is 14:00. Check-out time is 12:00 noon. SaQi Guesthouse operates all year round.
Room types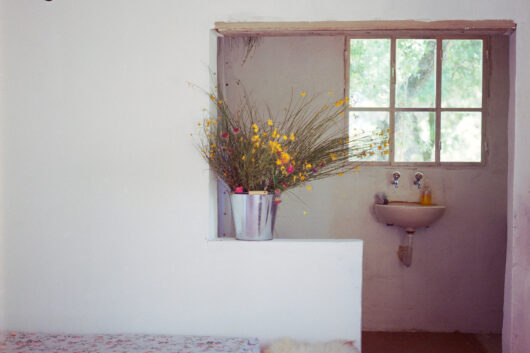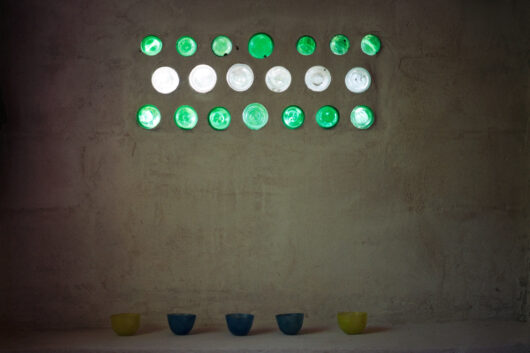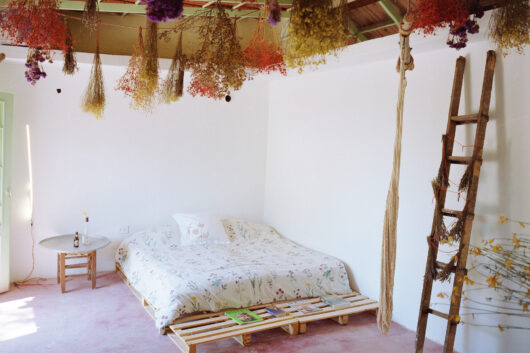 Thyme
This boho-chic double boasts many original and whimsical touches: dried herbs and flowers dangling from the ceiling, a rickety wooden ladder and upcycled furniture. The room has its own private bathroom with an interesting glass bottle wall display and direct access to the garden.
Double bed
Free WiFi
Garden view
Private bathroom
Private parking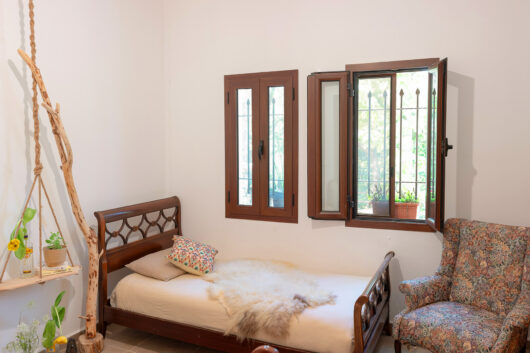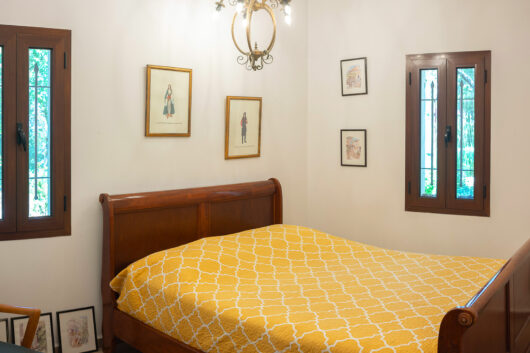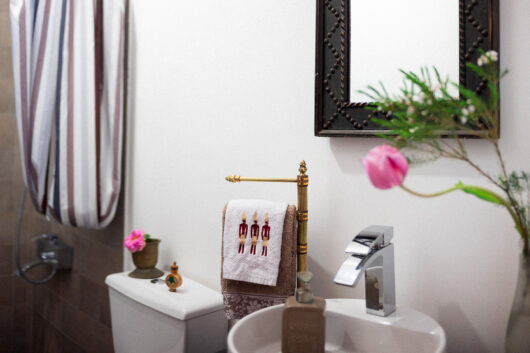 Peony
This colorful unit features two separate bedrooms: a twin and a double. The rooms are tastefully furnished with wooden furniture and colorful fabrics and accent pieces. They share a bathroom.
Double bed & twin beds
Free WiFi
Garden view
Private parking
Looking for a quaint retreat in the heart of mountains? This old monastery turned rustic guesthouse in Rechmaya is bound to sweep you off your feet.
Guesthouse location
Transportation
Our airport transit service from Rafic Hariri International Airport is available day and night. Upon landing and once you've picked up your luggage, your taxi driver will be waiting to greet you and drive you to SaQi Guesthouse.
From and to Beirut Airport
Airport pick-up 

$50

Airport drop-off

$50
The freedom to follow where your heart leads you! Your taxi driver is at your disposal for full day bookings, allowing you the flexibility to create your custom itinerary… all you have to do is let the pleasure of discovery take over.