L'Annexe · Overview
L'Annexe is an exceptional accommodation for an exceptional city. Baalbek is like no other city in Lebanon. You approach it heart first, tiptoeing towards the rich fabric of its historical and cultural makeup. It is a city that belongs to humanity; perhaps even more than it does to the Lebanese, who are privileged to be its guardians.
L'Annexe · In detail
L'Annexe is a traditional Lebanese home built in the 19th century that includes five rooms and a patio. Light passes through its arched windows, filling the quarters with a golden and ochre glow, and Baalbek's columns stand proudly in the distance. Its melange of Arab and Greek decor becomes a microcosm of Baalbek's diverse roots: an encounter of peoples and civilizations, where Phoenicia meets Rome, crossing paths with Arab caravaners resting under Baalbek's sun, whose glorious light inspired the city's Greek name, Heliopolis.
L'Annexe · The people
With an infinite love for their hometown Baalbek and a passion for its rich heritage, Ali and his wife Rima—who acquired the place in the 1980s—opened L'Annexe's doors as an invitation for curious guests to discover true Middle Eastern culture.
L'Annexe · Rooms
L'Annexe offers 4 rooms with twin beds and 1 room with a double bed. Each room has a private bathroom. The rooms are identical in size, comfort and price. Our favorite ones are those located at the back of the house (twin rooms), overlooking the charming inner courtyard. The double room and one of the twin rooms, offer views of the archaeological site. An extra bed can be added in all rooms.
Question? Ask away
Whether you need more information on L'Annexe, or whether you are having difficulties with your reservation… don't be shy! Contact us and our team will be delighted to answer your questions, 7 days a week.
Credits — Words: Reem Joudi. Photographs: Paul Gorra.
Lodging policies — Check-in time is 14:00. Check-out time is 12:00 noon. L'Annexe operates all year round.
Room types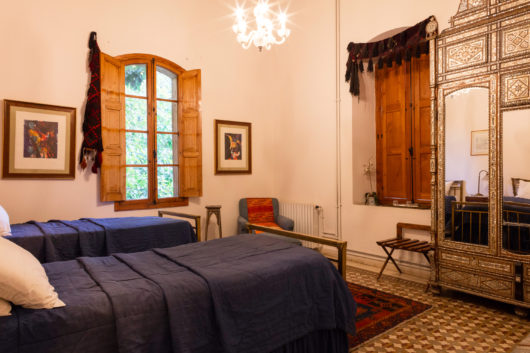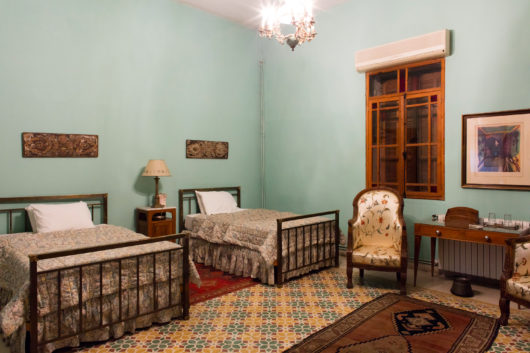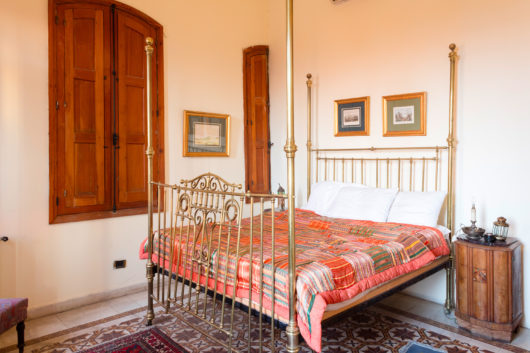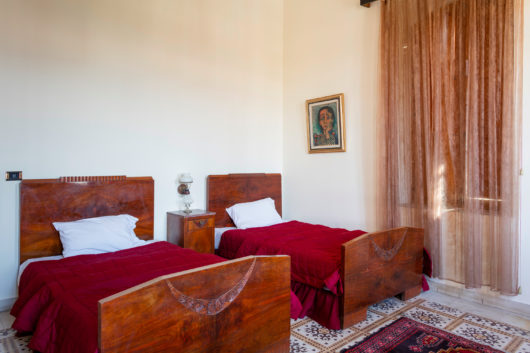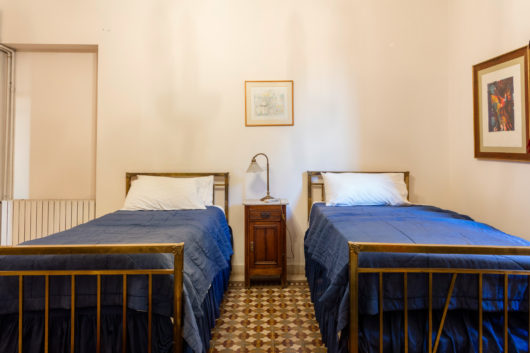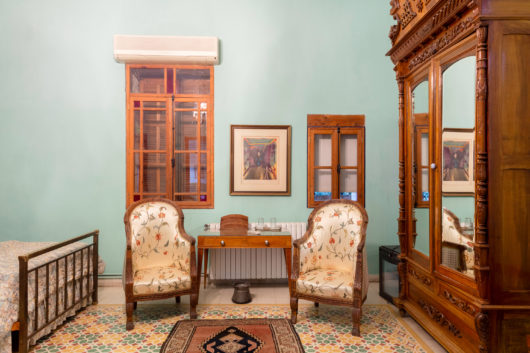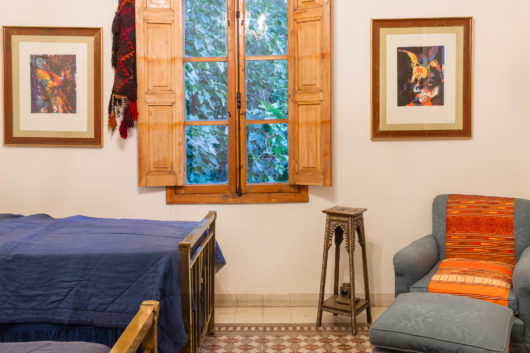 Double room
L'Annexe offers 5 double rooms (4 of them with two twin beds and 1 with a double bed). · Individually designed, every room at L'Annexe tells a story. The rooms contain their own private bathroom and overlook the charming inner courtyard or the magnificent Baalbek ruins. · We are on hand to assist with special requests, including bedding requirements: click the "Contact us" button or call us (+961 81 064460).
Air conditioning, heating
Free WiFi
Twin beds or double bed
Private bathroom
We skirted one of the sides of this hill of ruins, on which a multitude of graceful columns arose, gilded by the setting sun, and recalling to the mind the yellow and dull hues of the marble of the Parthenon, or of the Coliseum at Rome.
Guesthouse location
Transportation
Our airport transit service from Rafic Hariri International Airport is available day and night. Upon landing and once you've picked up your luggage, your taxi driver will be waiting to greet you and drive you to L'Annexe.
From and to Beirut Airport
Airport pick-up 

$90

Airport drop-off

$90
The freedom to follow where your heart leads you! Your taxi driver is at your disposal for full day bookings, allowing you the flexibility to create your custom itinerary… all you have to do is let the pleasure of discovery take over.