Douma: a haven of tranquility
You won't understand what's a real getaway until you experience Douma. Thirty minutes from Batroun and far, far away from any kind of urban invasion, the village offers all the ingredients of a perfect retreat. Noise-free streets, beautiful traditional architecture, a charming old souk, a fresh breeze, and splendid nature rich with olive trees, Douma combines everything that's appeasing to the senses and revitalizing for the body and the mind. It's no wonder that the pronunciation of Douma comes from the Hebrew language word "Doumah", meaning calm and rest.
Douma is mostly famous for its old souk that has well preserved its traditional cachet. Small paved streets welcome you with superb old wooden doors that open to reveal fresh local produce, beautiful artisanal works, and craftsmen forging wood or iron. With an abundance of iron in its oil, Douma was a hub for the iron industry back in its golden age (1881-1914), attracting craftsmanship and buyers alike, hence another name it has been known for: "Douma El Hadid".
Where to stay in Douma?
Nowhere but Beit Douma, your "home away from home" escape in one beautiful member of the L'Hôte Libanais Family. Book your room online or call us now: +961 81 064460.
Douma: a central location
Perched in a valley surrounded by mountains, Douma is strategically located in the Batroun district bordered by the beautiful villages of Tannourine, Bsha'leh, Hardeen, and Neha. Only 30 minutes from Laqlouq and Balou3 Balaa and a few minutes away from Assia and Tannourine, the town presents a heavenly location for all hikers and outdoor lovers!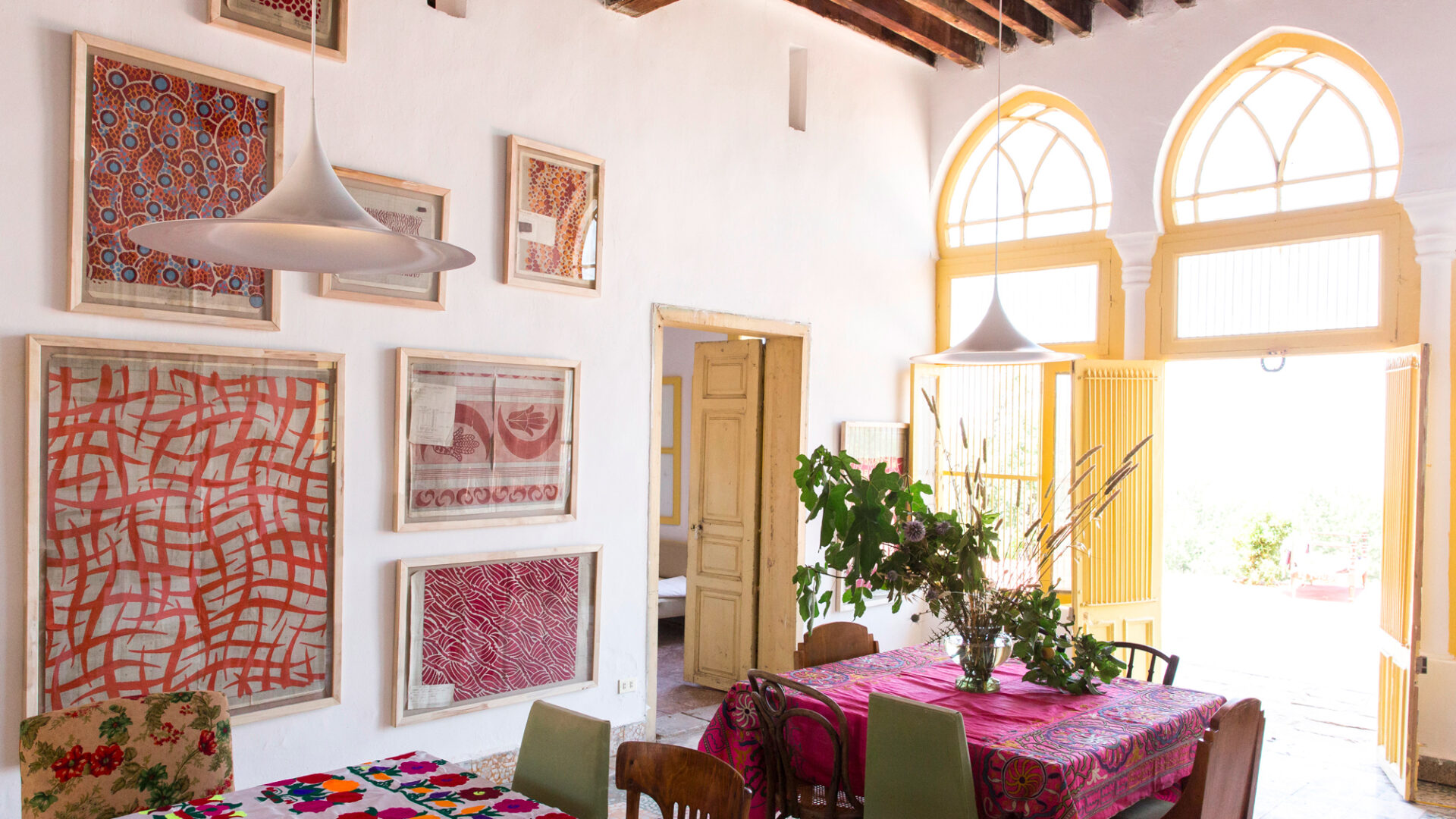 Beit Douma, photo: Roland Ragi
Beit Douma: another (worthy) reason to visit Douma
An extension of Souk el Tayeb and a member of L'Hôte Libanais, the old renovated Lebanese house captures the essence and spirit of this family of guest houses that tries to protect Lebanon's heritage and promote rural tourism.
Entering Beit Douma, you're immediately drawn by the warmth of a place that makes you feel straight at home. Centered around a Dar, the first floor of a beautiful traditional house welcomes you with a high ceiling, typical Lebanese arches, a living room with a rich library, and a big table decorated with flowers and delicious complimentary desserts and coffee, just like your grandma would serve them.
Climb the stairs to reach the common lounge room warmly decorated down to the smallest detail. Flowers, lamps, wall frames, books, traditional fireplaces; every meticulous detail so subtly placed makes sure to charm the eyes and immerse the mind in the homey feel of Douma.
And when you wake up to the singing of the birds and you open your eyes to the mesmerizing views of Douma and the smiling faces of hosts waiting to serve you the most delicious breakfast, you'll realize you never want to leave this place.
Beit Douma has 6 rooms overall and is surrounded by a lovely terrace as well as gardens and orchards.
Far away from any kind of urban invasion, Douma offers all the ingredients of a perfect retreat.

Waterfall and cave of Balou' Balaa (Baatara gorge)
Must-try in Douma
You can find several dining options in the village of Douma but there's one you shouldn't miss: Istirahit El Moukhtara. Her real name is Jamal and she's the one you should visit for the best Awarma, Keshek and Saj in town. She won't mind opening her place and heating her oven just for you, while she lights up your mood with funny stories and makes you fall in love with her passion and kindness.
How to get to Douma
From the "hajiz" (checkpoint) of Batroun, take the road up passing by Abdelli, Ghouma, Chabtine, Assia, and finally Bsha'leh before reaching the village of Douma: book your taxi trip online.
What to do around Douma
Many wonderful hikes and activities can be organized around Douma such as trekking in the beautiful cedar reserve of Tannourine, a visit to the waterfall and cave of Balou3 Balaa, hiking Nahr el Joz — the river of Tannourine, climbing in Tannourine, hiking Jabal Douma, visiting the 6000-year old olive trees of Bsha'leh, among others. The hike I chose to do during my stay in Douma was in the village of Assia, most specifically its wadi, 7 minutes by car from Douma.
Assia is a village of exceptional beauty. It is rich in remains of ancient civilizations such as sarcophagi, old historical churches and old grape and olive presses. Assia has many springs and water ponds like Saidet el Qalaa Pond, or The Lady of the Fortress Pond, irrigated by a gorgeous waterfall. Assia is also known to be the last Lebanese village to make 100% natural handcrafted pottery. Visit Sana Jabbour who welcomes you in her house to explain more about the art of pottery.
Cover photo: Krystel Riachi.