As the first guesthouse in Algiers, Dar Fatima sets a very high standard indeed. Its unique atmosphere, remarkable architecture and the warmth of its host pave the way for a truly authentic experience in this intriguing city.
Dar Fatima · The space
The magic of Algiers is revealed from the rooftop terrace of Dar Fatima, where one can enjoy a spectacular view over the city. The lively streets below provide a beautiful contrast to the tranquility of the guesthouse, which exudes an aura of exoticism through its oriental and North African touches: colored tiles, decorative carpets, works of art, wrought iron furniture and geometric patterns, all the way to the hammam.
Dar Fatima · At home
By creating Dar Fatima, Maleyka realised a dream to welcome travellers into her home, which features two charming guest rooms. Every detail has been carefully planned, including the mouthwatering breakfast and the organic tea, to ensure that guests feel at home from the very moment they arrive. Furthermore, the metro is less than a five-minute walk, providing easy access to the city center.
Dar Fatima · The history
Built in 1940, Dar Fatima is a stunning example of Moorish architecture. The house is a celebration of rich, contemporary history and offers curious travellers a rare opportunity to experience typical life in Algeria while discovering the capital's hidden treasures.
Question? Ask away
Whether you need more information on Dar Fatima, or you're experiencing difficulties with your reservation… our frequently asked questions section might help. Otherwise, don't be shy — contact us! We will be delighted to answer your questions, seven days a week.
Lodging policies — Check-in time is 14:00. Check-out time is 12:00 noon. Dar Fatima operates all year round.
Credits — Words: LJ. Photos: Riadh Berka
Room types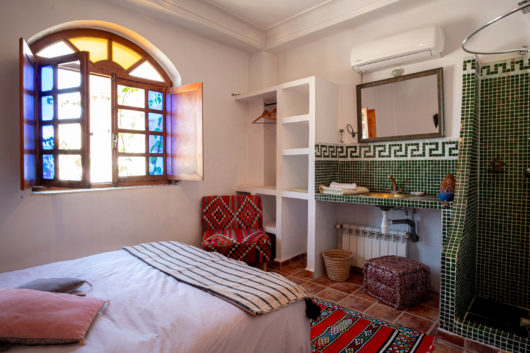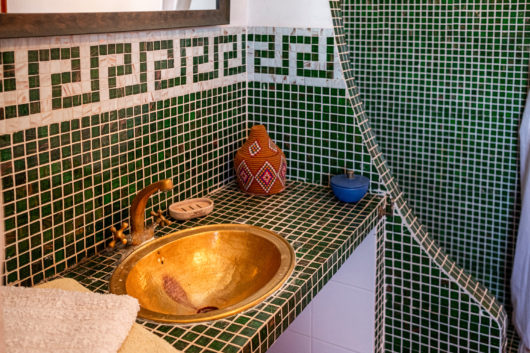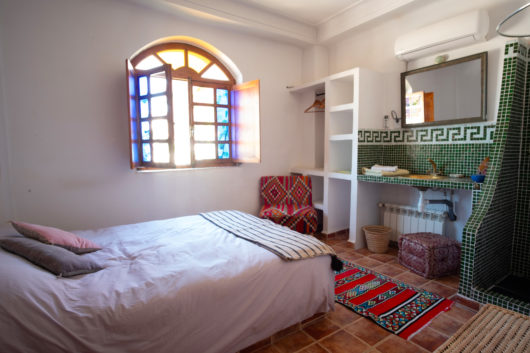 Double room
Dar Fatima has 2 guest rooms with private facilities. Like the rest of the house, they are elegant, colourful and inspired by the Orient. Each room can accommodate up to 2 people. Do not hesitate to send us your requests by clicking the "contact us" button or by calling us on +961 81 064460.
Access to the house's private hammam
Access to the house's rooftop terrace
Air conditioning
Private bathroom
Free wireless Internet
Guesthouse location
Transportation
Our airport transit service from Algiers' Houari Boumediene Airport is available day and night. Upon landing and once you've picked up your luggage, your taxi driver will be waiting to greet you and drive you to Dar Fatima.
From and to Algiers Airport
Airport pick-up

15$

Airport drop-off

15$