Beit El Nessim · Overview
Once in Tripoli, on your way to Beit El Nessim, you will stroll the old streets of Al Mina, near the seaside, walk along old houses, peaceful small shops, meet street vendors of orange and carrot juice, pastries and fruits, and greet shop owners, barbers, tailors and children playing joyfully.
Beit El Nessim · In detail
You will probably get lost—we hope so, as Tripoli is a great place to get lost in—, then finally find Beit El Nessim, Maya and Nabil's guesthouse. With infinite patience, they brought life back to this beautiful 150-year-old house. And while sitting on the rooftop terrace, with bell towers, minarets and fruit trees surrounding you, Tripoli will remind you that it is far from what you were expecting… but much closer to what you were dreaming of.
Beit El Nessim · Meet your hosts
Maya is a journalist and a writer. Nabil is a yoga teacher. Each detail at Beit El Nessim is a tribute to their passion for Art, and many pieces of furniture are reminders of Nabil's trips to India. Make sure not to miss the food at Beit El Nessim, as Nabil's creative recipes are also part of the journey.
Question? Ask away
Whether you need more information on Beit El Nessim, or you're experiencing difficulties with your reservation… our frequently asked questions section might help. Otherwise, don't be shy — contact us! We will be delighted to answer your questions, seven days a week.
Lodging policies — Check-in time is 14:00. Check-out time is 12:00 noon. Beit El Nessim operates all year round.
Credits — Words: Reem Joudi. Photographs: Gérard Planchenault, Diaa Arfan.
Room types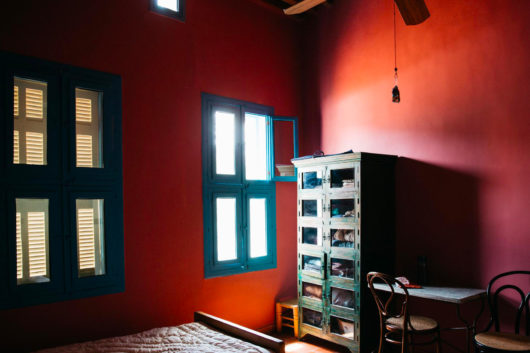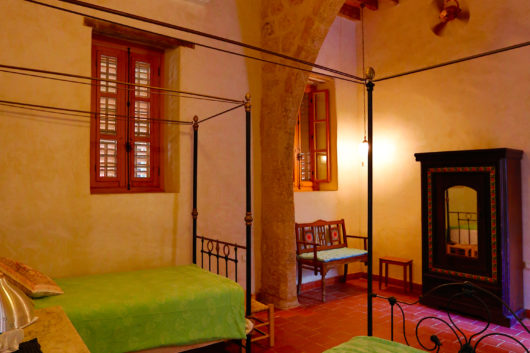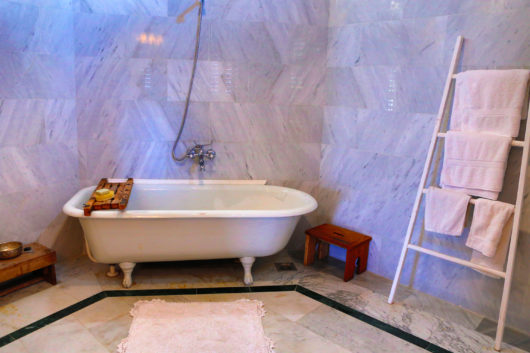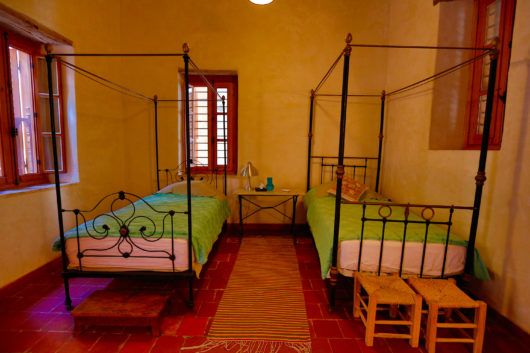 Double room
Beit El Nessim offers 5 double rooms. · All rooms are imbued with Indian and oriental influences. Some rooms face the beautiful inner courtyard, while others overlook the city. The rooms comprise either a double bed or twin beds, and a private bathroom. · We are on hand to assist with special requests, including bedding requirements: click the "Contact us" button or call us (+961 81 064460).
Air conditioning, heating
Double bed or twin beds
Free WiFi
Extra bed available
Private bathroom
Go to Beit El Nessim guesthouse in Mina, a beautiful old Mansion restored to a fusion between Morrocan and Indian style, run by a Yogi and his partner. The place buzzes with beauty and serenity, generosity and peacefulness.
Guesthouse location
Transportation
Our airport transit service from Rafic Hariri International Airport is available day and night. Upon landing and once you've picked up your luggage, your taxi driver will be waiting to greet you and drive you to Beit El Nessim
From and to Beirut Airport
Airport pick-up 

$80

Airport drop-off

$80
The freedom to follow where your heart leads you! Your taxi driver is at your disposal for full day bookings, allowing you the flexibility to create your custom itinerary… all you have to do is let the pleasure of discovery take over.