If you're searching for traces of 50s and 60s Beirut, you'll find them in the streets of Hamra. This marvellous neighbourhood has many stories to tell; so why not begin your adventure at the charming villa on Baalbeck Street, better known as Beit El Hamra.
Beit El Hamra · A celebration of Beirut's past
With its canary-yellow exterior and delightful porch, Beit El Hamra is hard to miss. This two-room property blends mid-twentieth-century kitsch decor with modern comforts to provide guests with an unforgettable experience in the heart of the city. Once you step inside this unusual home, you'll quickly notice the interesting wall art, patterned wallpaper and vintage furniture, as well as the airiness that permeates its light-flooded rooms. Outside, the brightness continues; kapok trees adorn the garden, where one can easily forget the time of day while reading or sipping Arabic coffee.
Beit El Hamra · Beautiful inside and out
Traditional specialities are on the menu at Beit El Hamra. The property is part of the Souk El Tayeb project, which aims to preserve local food heritage by supporting Lebanese producers; so whether you choose to sit in the spacious dining room or in the pretty garden, you'll certainly enjoy the taste of authentic dishes that are packed with flavour and made with love.
Question? Ask away
Whether you need more information on Beit El Hamra, or you're experiencing difficulties with your reservation… our frequently asked questions section might help. Otherwise, don't be shy — contact us! We will be delighted to answer your questions, seven days a week.
Lodging policies — Check-in time is 14:00. Check-out time is 12:00 noon. Beit El Hamra operates all year round.
Credits — Words: Nour J.
Room types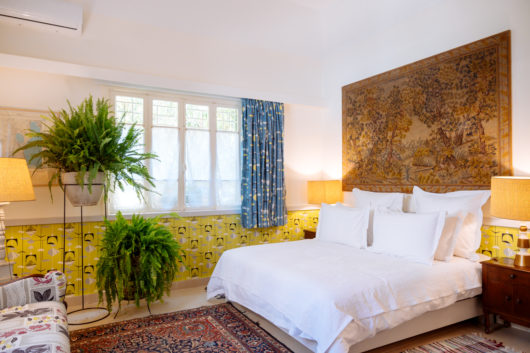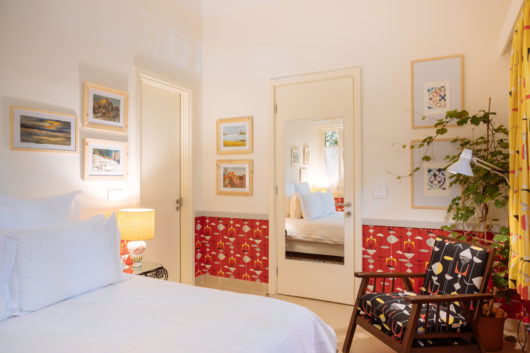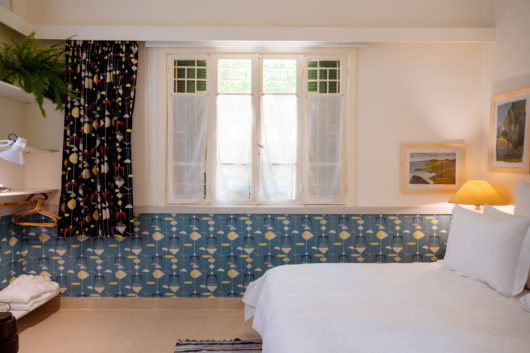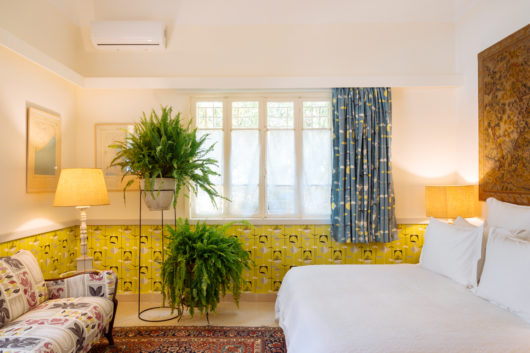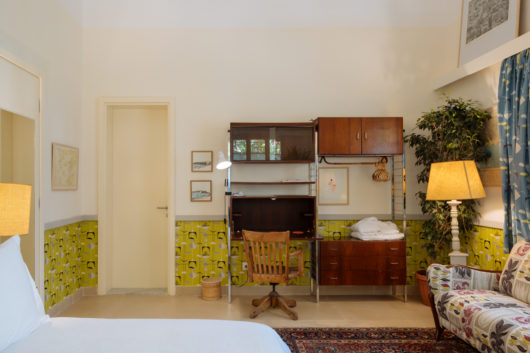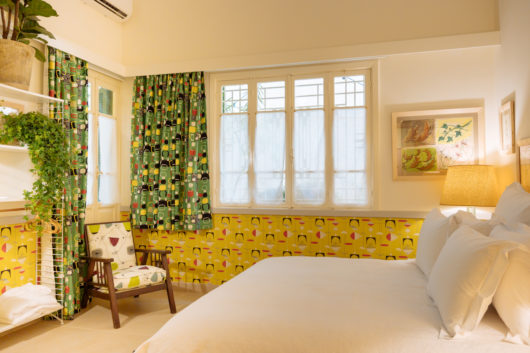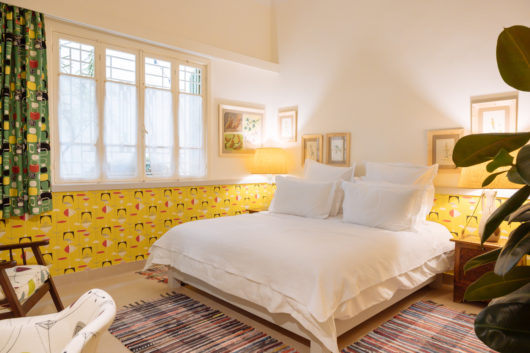 Double room
Beit El Hamra offers two double rooms. · The rooms are spacious and bright with high ceilings. They are decorated with eye-catching fabrics and bold colours. · Maximum occupancy per room: 2 guests. · We are on hand to assist with special requests, including bedding requirements: click the "Contact us" button or call us (+961 81 064460).
Large double beds
Free WiFi
Family-friendly
Air conditioning, heating
Pet-friendly
It's a retro home-from-home. The four en suite rooms, which are all on the ground floor, have a blousy feel, with colour-popping vintage wallpaper, patterned curtains and fabric-covered chairs, plus multiple picture frames filled with art and plenty of trailing plants.
Guesthouse location
Transportation
Our airport transit service from Rafic Hariri International Airport is available day and night. Upon landing and once you've picked up your luggage, your taxi driver will be waiting to greet you and drive you to Beit El Hamra.
From and to Beirut Airport
Airport pick-up 

$25

Airport drop-off

$25
Airport drop-off is free of charge for all bookings made before the 10th of January, 2020.
The freedom to follow where your heart leads you! Your taxi driver is at your disposal for half day and full day bookings, allowing you the flexibility to create your custom itinerary… all you have to do is let the pleasure of discovery take over.
Custom itineraries
Full day taxi hire in Beirut (8 hours)

$160

Full day taxi hire in Lebanon (10 hours)

$180