Beirut is relatively small for a capital city, but it has a lot to offer visitors. Packed with top-notch restaurants, unusual boutiques and fascinating cultural venues, it's the perfect place to spend a couple of days eating, shopping and broadening your knowledge of regional art and history.
Day 1
Start your visit with a morning stroll around Hamra, the bustling, cosmopolitan area in the west of Beirut. Look out for several impressive works of graffiti spanning the sides of buildings, like local artist Yazan Halwani's seven-story portrait of Sabah, a beloved Lebanese singer. Stop for a coffee at T-Marbouta, a bohemian café with a quiet garden, and then swing by the campus of the American University of Beirut. The university has a stunning garden full of palm trees that slopes down to the Mediterranean Sea.
Where to stay in Beirut?
Stay in one of the guesthouses and boutique hotels that are part of the L'Hôte Libanais Family in the heart of Beirut, and feel at home in charming, resplendent decors.
Make your way to Downtown, the swanky heart of the city, and admire the ancient Roman and Phoenician ruins, then head to the trendy neighbourhood of Mar Mikhael and enjoy a mouth-watering buffet lunch at Tawlet. It's a unique place in the city offering authentic Lebanese cuisine prepared by village cooks.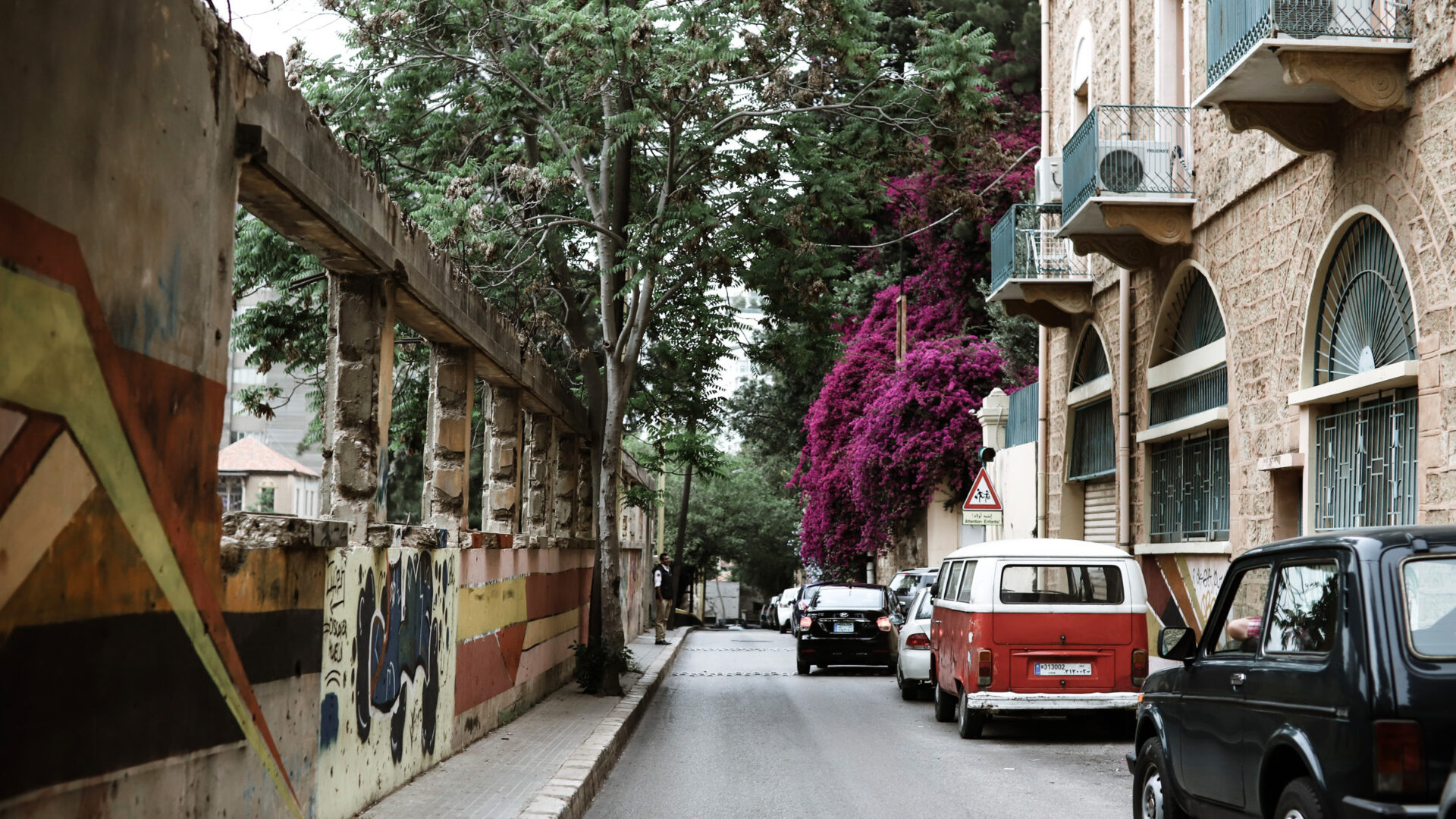 Achrafieh, Beirut · Photo: Natalie Riachi
In the afternoon, head to the National Museum of Beirut which houses around 100,000 artefacts dating as far back as prehistoric times. You'll find a sizable collection of funerary art, including 31 white marble sarcophagi resembling Egyptian mummy cases, dating from the Phoenician period roughly 2,500 years ago.
From the museum, head north down the former Green Line that divided East and West Beirut during the 1975-1990 Civil War. Stop at the Mim Mineral Museum, where you'll find an impressive collection of more than 1,800 precious and semi-precious stones from more than 70 countries. End your walk at Beit Beirut, situated at the Sodeco intersection. A 1920s mansion that was occupied by snipers during the war, the building has been transformed into a memorial of Beirut's past, with snipers' nests, graffiti and bullet holes all preserved. It is only open to the public during exhibitions.
For dinner, Enab in Mar Mikhael serves amazing Lebanese mezze and grills in a semi-formal setting. Alternatively, if you prefer something more relaxed, try Mezyan in Hamra, a lively spot with an inventive menu and late-night dancing. Afterwards, if you're in the mood to party, warm up with cocktails at a rooftop bar like Fabrk or Coop d'Etat, and continue onto Sporting, a seaside club with an outdoor dance floor, for the weekly party Decks on the Beach. If you're visiting during winter, have a drink at Centrale, a spectacular bar boasting a semi-retractable roof.
Day 2
On day two, enjoy a lazy brunch at Dar Bistro & Books, a charming, laid-back café in Hamra, followed by a morning coffee at Papercup, a cosy bookshop with an eclectic collection and browse their selection of local art books. Stop by Plan Bey, a shop selling prints and books by local artists, then stroll along Armenia Street and down Gouraud Street, the main artery of the picturesque Gemmayzeh neighbourhood. You'll see plenty of art galleries, concept stores and design boutiques on your way.
Head up the Saint Nicolas Stairs to the Sursock Museum, a beautiful mansion dating from the early 1900s, which houses a large collection of modern Lebanese art from their permanent collection as well as interesting temporary exhibitions by local contemporary artists.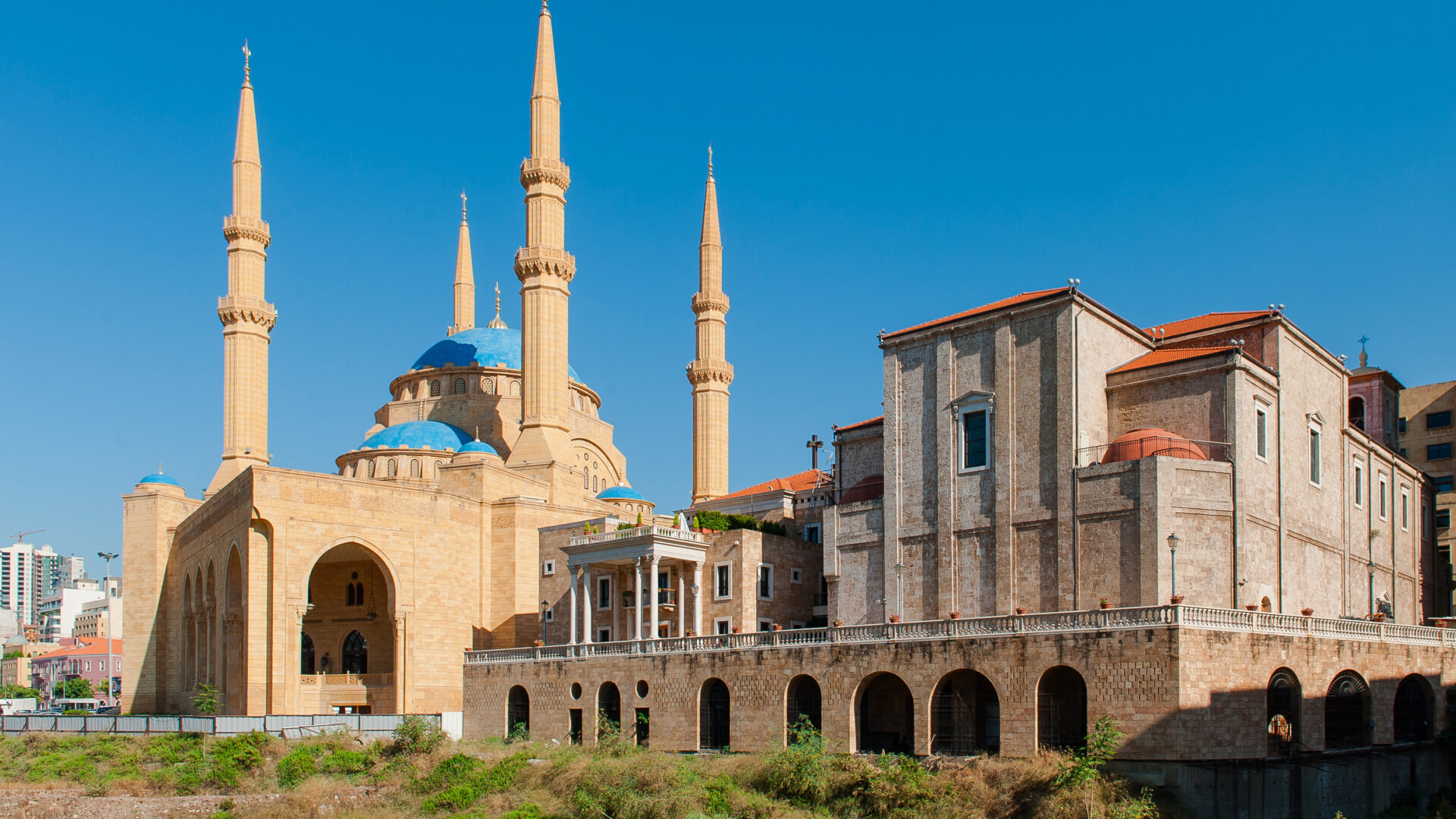 Mohammad Al-Amin Mosque and Saint George Cathedral, Beirut · Photo: Šárka Babická
Walk along Beirut's famous Corniche in the afternoon. More adventurous travellers can enjoy the seafront promenade by renting a bike and cycling up to Pigeon Rocks, rock formations that are Lebanon's most famous natural landmark.
Look out for the nearby Holiday Inn, a towering ruin of a once-fancy hotel that has stood derelict since the war and has become a sort of unofficial memorial. Enjoy early-evening drinks at Kissproof, a chilled-out bar and restaurant in Badaro, or opt for cocktails at Pacifico, a lively bar with a garden on the pretty street of Monot. Round off your evening with a delicious meal at Nour Beirut, a delightful restaurant serving traditional Armenian cuisine, located just a few steps from Pacifico. Liza Beirut is another excellent choice, where you're guaranteed an exquisite selection of Lebanese favourites and an unforgettable experience.
Cover photo: Leonid Andronov